The inspection and audit have been done by TUV Rheinland LGA Products GmbH this year. Because of the strict quality management system, Cobetter has passed the certification of ISO13485:2016. The certification involves the manufacture and sale of medical grade water filters (POU filters) and Automatic Airstop Membrane. The certificate was officially effective on December 11, 2018.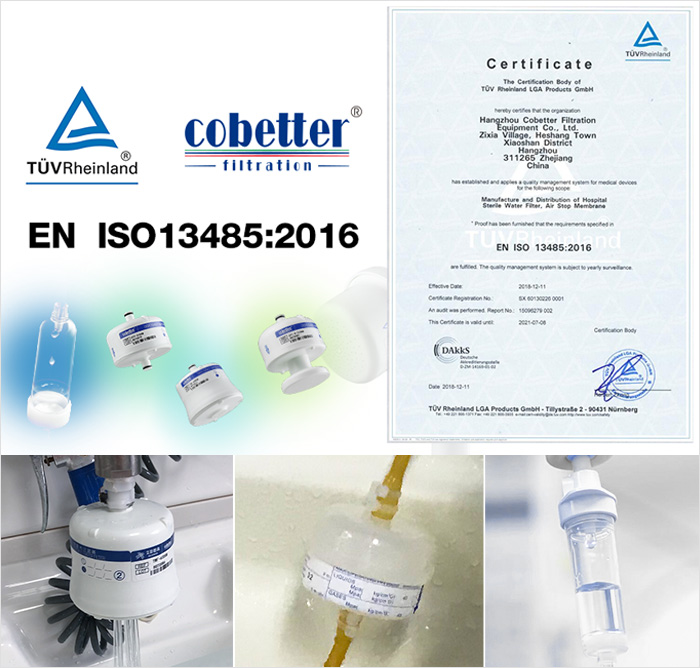 Cobetter POU filters are composed of double-layer PES pleated membranes, which is able to provide excellent sterilization capacity, extends lifespan and decrease filtration cost. The filter passes the bacterial challenge test based on the ASTM F838. They can offer sterile water for patients and healthcare staff in order to decline the risk of infection. The filter is widely used in Endoscope rinsing, patient wound irrigation, drinking and bath water for organ transplant patients, neonatal ward/ICU/burn department.
The function of Automatic Airstop membrane is to maintain the liquid at a certain level so as to stop the air entering into the vein. The membrane is able to reduce the workload of medical workers and improve the safety of patients. Cobetter Airstop membrane is asymmetric which has high hydrophilicity and high aperture ratio. The membrane can immediately be wet due to the high hydrophilicity so as to decrease the preparation time. The asymmetric and high aperture ratio increase the filtration efficiency and dirt holding capacity. The flow rate of the Airstop membrane is two times higher than other membranes and the interception efficiency is over 95% (5μm).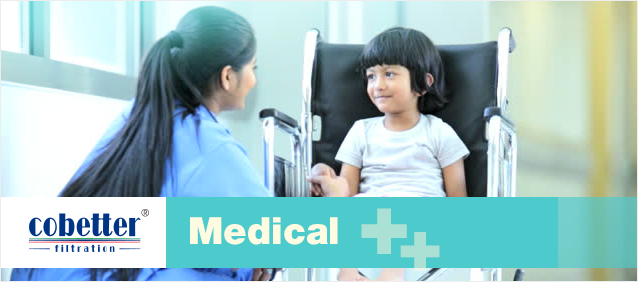 The manufacture of Cobetter POU filters and Airstop membranes correspond to the requirements of EN ISO13485:201, which has a positive effect on boosting the development of both domestic and international markets. Cobetter will continuously improve the quality control and the risk management systems in order to provide the safety and standard medical products to customers.
Product details:
POU filters
http://www.cobetterfiltration.com/Industries/Medical/products/Steriling.html
Airstop membrane
http://www.cobetterfiltration.com/Industries/Medical/Infusion-Therapy/Air-Stop-Filter-Membrane/