In the proteins and nucleic acids transfer and testing process, there is transfer membrane used , different transfer membrane has diffierent specification and parameters, in order to achieve the best test result, it is pivotal to choose the right ,uniform and stable tansfer membrane.
High mechanical strength, hard to be broken and be curly, good heat resistant and reusable
High protein binding ability, high sensitivity, low background
Broad chemistry compatibility
Comparison between Cobetter PVDF western blotting membrane with other brand membranes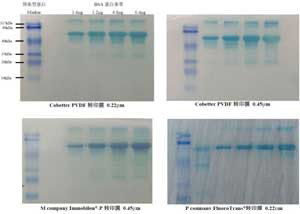 Target proteins: bovine serum albumin(BSM), molecular weight is about 66 kda
Sealing fluid: 5% skimmed milk
TBST. Cleaning fluid: TBST
Resistance one: Rabbit polyclonal antibody against BSA
Resistance two: Horseradish peroxidase labeling goat resist rabbit IgG
Chromogenic agent:: common substrate of Horseradish peroxidase
Tranfer membrane condition: rotate 1.5H in wet under 100V constant voltage.