Hospital Point of Use Water Filter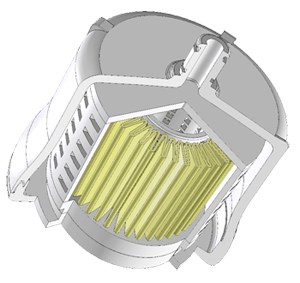 Waterborne bacterium colonizing biofilms are frequently found in hospital water systems. These biofilms usually contain pathogenic bacteria, such as Legionella spp., Pseudomonas aeruginosa, and Coliforms. Therefore, many medical organizations and hospitals contribute to reducing the risk of biofilms by conducting water management program.
Legionella pneumophila

thriving in the warm water conditions can often be found in hospital water systems including central storage areas (e.g. water tanks) and peripheral water outlets. Legionella is able to result in Legionnaires'disease --- a potentially fatal form of pneumonia.

Pseudomonas aeruginosa

is a multidrug resistant and intrinsically advanced antibiotic resistance pathogen also found in hospital water systems. P. aeruginosa is associated with hospital-acquired infections, such as pneumonia, sepsis syndromes, wound and skin infections.
Cobetter Point of Use filter is designed as Legionella filter and Pseudomonas filter for removing waterborne pathogens in healthcare facilities (hospitals and clinics). The infection control filters use 0.2μm double-layer PES membrane with an asymmetric pre-filtration layer for longer service life and lower filtration cost.The filter meet the ASTM F838 with a bacteria retention>107/cm2 (sterilizing grade). The filter is also easily installed and replaced on faucets.
Vulnerable and immunocompromised patients, elderly, and newborn are easy to be infected by contact with water in medical centers. Therefore, the POU filter is an effective and economical way for hospital Infection control and uses as Legionella filter and Pseudomonas filter.

Typical Applications
· ICUs
· Operating Room Hand Washing
· Bone Marrow Transplant Units
· Hematology / Oncology / Transplantation / Burn units
· Wound Rinsing, Neonatology
· Endoscopic Reprocessin
· Birthing Pools
· Patient Bathing and Showering Areas
· Kitchen (for food preparation and drinking water provision)
· Geriatric Departments
· Infection Control
· Legionella Filter
· Pseudomonas Filter.
For technical data sheet or application inquiry, you are more than welcome to contact our sales representative by sales@cobetterfilter.com or leave a message