Multiple Capacities Available
Multiple Capacities are available: 200ml, 300ml, 400ml, 500ml, and 700ml


Optional Media
Correct media selection for different printers can impact filter performance characteristic such as pressure loss,gel retention and service life. The NPT filter offers four high-performance Cobetter media to meet your digital printing filtration requirements: INK-PPC, INK-PPJ, INKPS. Recently launched INK-PS Series is targeted for high-speed printing machines since it can effectively remove ink particles.


Reasonable Capsule Design
Air Inlet and drain vent connection are also moulded of the capsule ensuing the filtrating more effective.


Non-Fiber Releasing Design
Thermal-bonded flber polypropylene forms a stable structure ,and ensure no flber releasing.


Thermal Welding Technology
No adhesive resins and ensure capsule filter excellent pressure endurance.


UV-resistant Housing Design
UV-resistant housing material-black color NPT capsule is special designed for protection from UV light.
Flow Rate Characteristics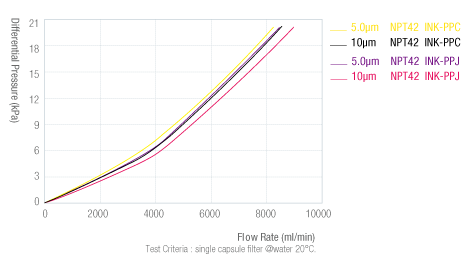 Longer Lifetime
8 layers nano-fiber construction, enhanced filtration area, ideal for filtration of high solids containing inks such as ceramic inks for ceramic printers. Particles can be gradually removed, lifetime is extended while maintaining same removal efficiency


Low Differential Pressure & High Flow Rate
INK-PPJ Series is particularly suitable for CIJ printers which provides low differential pressure and high flow rate to ensure smooth flow.


Super High Filtration Efficiency
Specially designed for textile printers. PP media +PES membrane offers 100% removal efficiency and provides high level of printhead protection.