Filtration , Separation

&

Purification
As one of the leading global innovators of filtration solutions, Cobetter focuses on membrane technology application and R&D. In addition, we are dedicated to supplying filtration, separation, and purification solution across all industries worldwide.Domestically (in China), 90% of pharmaceutical companies, 80% of food and beverage companies, 90% of microelectronic companies along with multinational chemical and medical device companies utilize Cobetter products and solutions.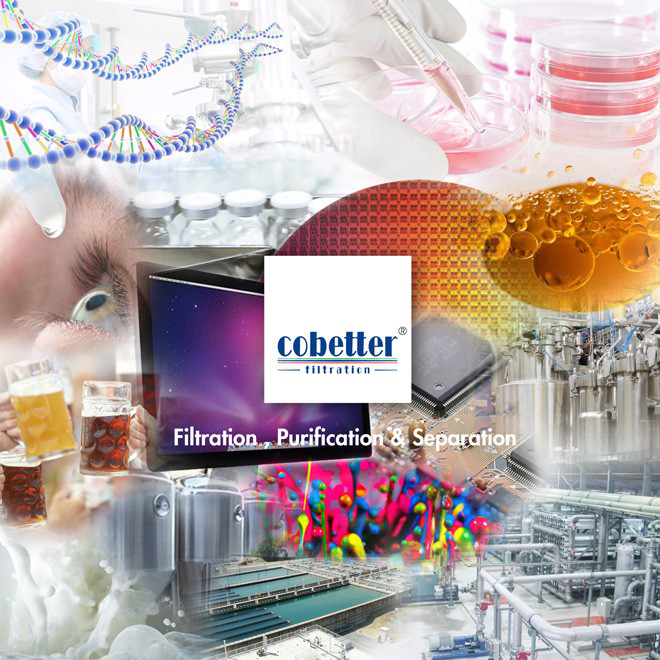 公司拥有亚洲一流的研发,设计,制造和过滤系统成套能力
As a large global company, Cobetter has a workforce composed of 600 employees and 230 engineers providing services to 3,200 customers in 80 countries including 250 customers in Japan. With a strong focus on the international market, Cobetter exports 50% of her products to overseas markets.

Cobetter is a technology-driven company that is committed to R&D and innovative filtration solutions.Our R&D department, lead by 10 overseas technical experts and 100 domestic engineers, is committed to producing microporous membranes, nano-fibers, and tangential flow filtration membrane cassettes With over 1200 products and 100-patented technologies, Cobetter has developed a full product range composed of core materials with unique performance capabilities. Our product scope includes microporous membranes, pleated filter cartridges, filter capsules, UF modules, stainless steel filters, coalescing separators, customized filtration systems, and filter validation services (testing and analysis). Through our R&D department and product scope, we provide advantages in all aspects of filtration.
We know and understand what the customer needs, thus, we are able to provide customized solutions. In order to do so, we have invested one billion Japanese yen (¥) to establish an independent Validation Center with Third Party Qualification. Our 100 technical engineers, 30 lab technicians, 6 Japanese Experts provide over 1200 technical analysis reports for customers in the pharmaceutical industry and 1300 technical analysis reports for customers in electronics, chemical, and life science industries annually.
As our core principle states: "Cobetter Filtration – Cooperation Makes a Better Future", we are committed to building long-lasting cooperation with our customers, suppliers, staff, and shareholders. For over 10 years, we have built these relationships. As we continue to grow, we will nurture them so that all involved are successful for the years to come.
Our Mission To solve your process problems and improve quality through innovative products and solutions